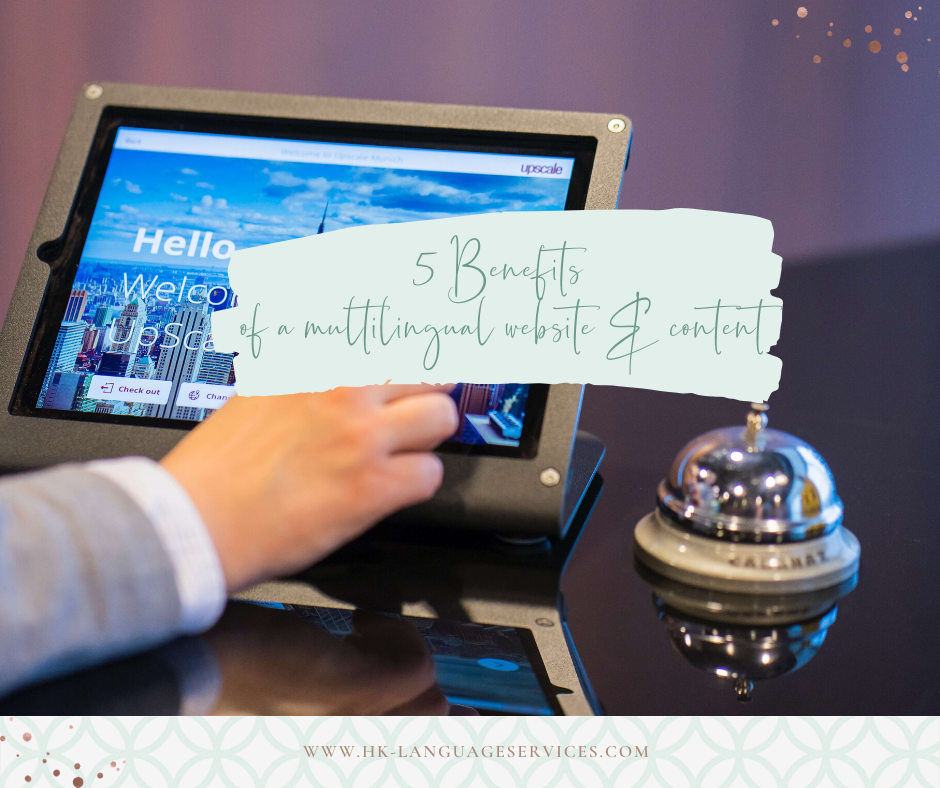 Reaching out to a greater audience has never been easier. In times when information is at people's fingertips and a large amount of people is connected 24/7, consumers have adapted to the digital world and expect the same from players such as travel agencies, tour operators, hotels, and other businesses in the tourism sector. Apart from the quality of services and the destination itself, the key to success also lies in increasing your visibility for foreign customers by providing compelling content. In other words, showing up with a multilingual website and content in a sector depending on internationality is a prerequisite.
Here you will find 5 benefits of a multilingual website & content.
#1 New markets
The aim of accessing untapped markets is to reach a whole new set of customers and thus increase sales. But doing your homework in advance is essential: apart from assessing the market conditions and market players, you need to overcome language barriers by offering your content in the target audience's language, as you want to attract new customers. However, poorly translated content can turn your splashy entrance to a new market into a dent in your reputation that might be hard to restore. The key is avoiding linguistic pitfalls through proper localisation. This means that the content is not only translated but also adapted to the culture and traditions of the target market.
#2 Diversification
Another reason for international expansion can be diversification. The aim here is to diversify assets and to reduce your dependency on a single domestic market. As a consequence, diversified market presences allow you to better offset global market fluctuations. For instance, companies with international operations can offset negative growth in one market by operating successfully in another. In addition, different markets hold a strong potential for certain offers of yours: people of culture A might not be the biggest fan of a specific offer whereas people of culture B might love it!
#3 Credibility
Communication is all about building trust. It is crucial to know that customer service already starts when a potential customer or guest visits your online presence.
Imagine a family of four sitting at the dinner table and discussing where they want to spend their next holiday. Everyone is excited and they brainstorm possible destinations. In the end, several destinations are thrown in the pot and the parents go online afterwards and start looking for possible options.
Anticipation starts right here!
In the process, the parents will break down the options depending on their budget, the amenities and attractions that will make their stay worthwhile and memorable. But it also depends on how they experience your website! If it is hard to navigate or confusing, they might be put off immediately and choose another option.
A holiday can be broken down into 5 stages of travel, the individual stages being booking, arrival, the stay itself, departure and back home. A traveler's emotions vary significantly when going through the different stages, experiencing excitement peaks during lead-up and arrival and a feeling of fulfillment once she/he has returned home.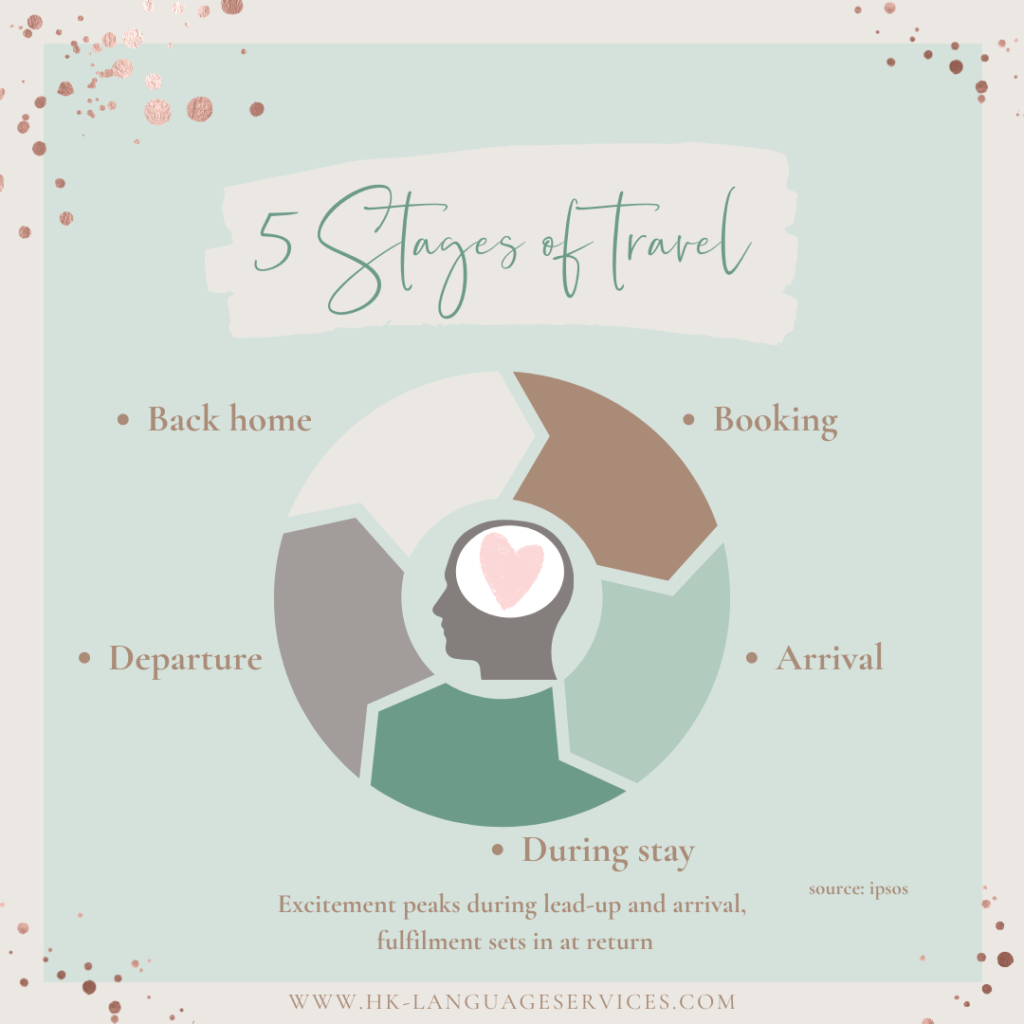 So, sparking the customer's interest when they visit your website is essential. The experience the customer has when browsing your website and the amenities you offer plays a crucial part in the decision-making process. Do you already have a multilingual website? How much effort did you invest in the translation? In other words, has it been translated professionally or quickly with an online translation tool? Is it correct in terms of spelling and grammar or is it full of errors, both in spelling, grammar and context? Not only will this make a poor impression, but it will also make the customer not feel valued.
"Communication is all about building trust."

TOPHOTEL.news
Communication plays a vital role in building trust among your customers. This is even more important during the corona pandemic. Attaching the utmost importance to rebuilding trust and instilling a sense of safety and security in your customers is fundamental.
So, let us dive into customer behaviour with regard to country- and language-appropriate content. According to a survey of language preferences conducted by the Harvard Business Review, the success of your online customer experience is determined by how quickly and painlessly guests find country- and language-appropriate content.
"How quickly and painlessly guests find country- and language-appropriate content, will determine the success of your online customer experience."

Harvard Business Review
These are the survey's results:
Hence, what do we learn from these results?
The customer wants to get an impression of what she/he can expect from a stay at your accommodation when visiting your website. Your competitors' offer might meet the same requirements as yours, but maybe they also went that extra mile and offer their website in various languages. Which website, do you think, will catch the customer's attention and will lead her/him to stay longer?
Furthermore, the user experience plays a decisive role that should not be neglected: it ranges from your multilingual website to your multilingual booking platform – all of which are crucial factors that round off the customer's impression and experience when visiting your website.
#4 Increased Conversion
Providing a multilingual website with the native language of your target audience will increase your conversion as visitors will not only be attracted by their search results, but will also spend more time on your website. Consequently, this will boost your online visibility as well as sales since it is a positive ranking factor for Google.
Please don't forget though – and I'm sorry if I'm repeating myself – that translating your content into another language with an online tool is one thing. Having it translated professionally, attaching the same importance to the translation as to the original text, is a completely different ball game which will make all the difference:
Another study revealed that the number one factor for purchasing a holiday online is the "excitement tourists experience while booking their next trip". The use of emotional and creative language in their native tongue is the winning factor.
Wouldn't it be great if the customer booked a stay with you because your content hooked and made her/him feel relaxed, understood, and most importantly, left him in joyful anticipation about his next holiday?
#5 Image boost
Providing a multilingual website and content for your international guests will increase your online visibility and will also lead to increased engagement with your audience, for instance on your social media channels. By following you, visitors will get to know you and your values and a trusted relationship will form in the long run.
Another great benefit of multilingual content is the improved communication with your guests. Bridging language barriers for your guests will make them feel valued, because you are making an effort to make them feel at ease and welcome. Keep in mind that people are much more inclined to book with you, if everything is as convenient and free of hassle as possible for them.
Once the guest has returned home and everything went to her/his complete satisfaction during the holiday, the customer will also act as a brand advocate by spreading the word to friends and sharing her/his experiences online.
Be international in an international industry
If you don't think that translating your content is important, consider the following: unlike some other industries, the tourism sector operates in almost every corner of the world and in every language possible. In an age where being online 24/7 is regarded as normal, connecting with your target audience by speaking their language is eminent for you as a tourism business. This is something that can only be achieved by a translation expert specialising in tourism and hospitality who is able to apply the necessary language skills and cultural knowledge.