Hotel Marketing: the complete guide to getting more direct bookings
When looking at the plethora of different possibilities for hotel marketing, overwhelm can easily overtake you. Without even batting an eye. Especially if the number of times you had to deal with marketing can be counted on the fingers of one hand. Picture this: you enter the term "hotel marketing" into the Google search bar. Scanning the search results (SERPs), you quickly realise that you miss the forest for the trees. Whoosh! There it is – the wave of self-doubt has washed over you: "Why should you of all people master marketing for your accommodation?"
I know why: because every little step counts and contributes to the big picture. This guide is meant to help you understand hotel marketing as such and to work out your marketing strategy. "What's the point? I'm listed on all OTAs." you might say. But after a year of lockdown and stagnation in 2020, 2021 is the year for you to increase your online visibility for potential guests to receive more direct bookings and be less reliant on OTAs.
And: your revenues will thank you for having to pay less commission to OTAs, too.
Why is hotel marketing crucial for your accommodation
Hotel marketing includes all measures to market your accommodation. Marketing has the objective to make your accommodation more visible and known through suitable marketing channels. The aim is to inspire potential (and existing) guests to spend their holiday at your holiday home. You want your occupancy rate as well as your revenues to increase with more direct bookings by paying less commission.
You've probably heard it before: the amount of time spent online is increasing constantly. Not only are people online in their home office, but they tend to spend more and more time surfing the net in their spare time. In times of mandatory mask-wearing, contact restrictions and closed shops and restaurants, people are surfing and shopping online from the comfort of their home more than ever. In fact, this trend is expected to continue even after the pandemic.
And it's no different with travel. People try to satisfy their unabated desire to travel online. This unbroken trend has been evident for many years: in the last 10 years, the number of people in Germany who reverted to the internet for information before a trip has more than doubled. In 2019, surfers most frequently searched for travel destinations (21 million), price comparisons (20.3 million) and accommodation (19.5 million). 61% of all holiday trips of one night or more were booked online – and the trend is upwards.
What does that mean for you and your hotel marketing
To put it bluntly: if you want to stand out from the crowds with your property, hotel marketing is vital for your online visibility. It's not only suitable for big players, such as the big and well-known hotel chains. Quite the contrary is the case: hotel marketing is key to success to accommodations of all shapes and sizes, be it bed & breakfasts, small hotels with charm, boutique hotels, guesthouses, holiday homes or flats. If you want to be perceived by lookers in the flood of online offers, you've got to put your action gloves on and start to make a difference. All the more so when the travel market opens up again. So, let's do this!
Why do so little private hoteliers see the potential of hotel marketing for their hotel
Many owners of holiday properties rely on the major online travel agencies (OTAs), such as Expedia, HomeToGo, Tripadvisor or Booking.com, to market their accommodation. Granted, these platforms have an enormous reach and market power. However, a holiday home totally lacks personality and disappears in the huge crowd of different offers. Although standardised search masks may make looking for holiday homes, B&Bs, etc. easy for the user, they are completely replaceable. The user quickly clicks from one search result to the next.
Property owners have to pay dearly for this market power: the commission for a booking via an OTA can amount to 20% of the room rate. A booking via their own website, on the other hand, amounts to only 5%. The effort per guest is the same, but if they have booked with an OTA, it puts a dent in the owners' finances in the long run.
Hotel marketing increases your exposure and direct bookings
So, I'd like to warmly recommend that you don't just leave hotel marketing to the big hotel chains. You too can do something for your accommodation's visibility (and, hence, for your occupancy). But why are so many owners intimidated by this subject and would rather stay put?
Many feel overwhelmed by the multitude of possibilities and don't know where to start.
Many believe that they won't be able to win against the large competitors and, hence, won't even give it a go.
Many simply don't find the time in day-to-day business or set themselves unrealistic time goals and eventually give up feeling frustrated.
How to increase your visibility for your guests with hotel marketing
Let's get one thing straight out of the way: don't expect quick overnight success. If you want to become visible for your potential guests, it takes time, patience and continuity. Just keep in mind that every little helps. Therefore, it's best to start with smaller goals.
Travelling is closely entwined with emotions. It's about experiencing many happy moments and creating memories that will last a lifetime. Try to capture and spark these emotions, such as joy and longing, in every little piece of your communication. Also, focus on your guests' needs and be authentic and approachable.
I know that this may be too much of a challenge after having gone through such a crisis: but if you feel you're struggling with something, simply outsource this activity. If it's only slowing you down, it's costing you valuable time and frustration will quickly kick in. Believe me, it will definitely pay off.
The big 6 of your hotel marketing
The internet or digital media take up a large part of people's everyday lives. Travellers aren't spared from this trend either. Online sources are becoming more and more important. The good thing about that is that your hotel marketing can reap the rewards. Especially since you can do many things without having to pay a great deal of money.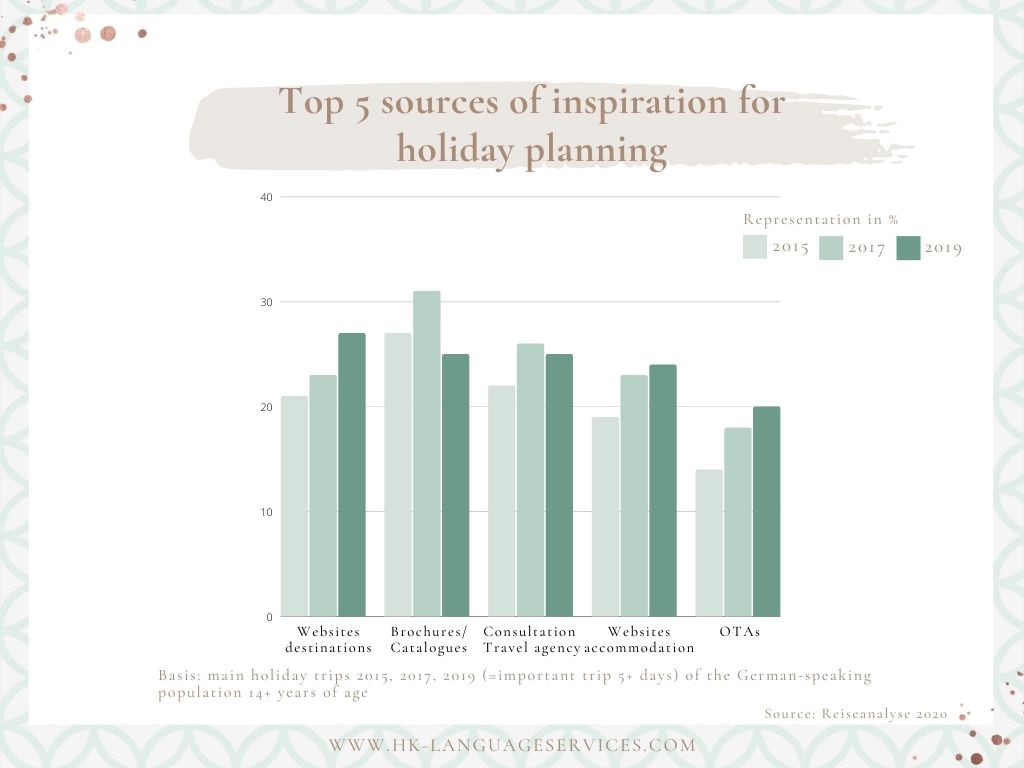 The following points are the pillars of your hotel marketing:
Hotel website
Mobile hotel marketing
SEO
Blog
Social Media
Email Marketing
1) Your hotel website
Your website is the lynchpin of your marketing activities. All other activities, which I will discuss below, focus on attracting the surfer to your site. This is why you should definitely start with a website for your accommodation.
You might already have a website. Brilliant! But is it up to date? If it is, then you can give yourself a good pat on the back.
But if your site is a DIY-site, where you dabbled with some HTML-and CSS-coding from your "Websites for Dummies" book, you can be sure: this occasional looker has turned his back on you for good! Chances are good that you'll see him Never. Ever. Again.
What's important for your hotel website
Your hotel website should focus on communicating with the website visitor and building a relationship. The traveller must feel welcome and be picked up directly after crossing your virtual doorstep. The guest experience starts before the actual stay on your website.
Therefore, your website should make your guests and what awaits them in your property a priority. Provide a pleasant and straightforward booking experience. The latter is usually the deciding factor to turn lookers into bookers.
The key elements for your hotel website:
appealing images that are compressed in image size
meaningful, high-quality texts that inspire and wow the visitor
clear menu structure
connection to a booking system with direct booking option ("Book Now" button)
fast loading speed
responsive design
A good hotel website will represent the hotel authentically and features a streamlined booking process.
The above-mentioned points all add to the user experience, which is rewarded by Google with a better ranking.
2) Mobile hotel marketing
According to Statista, 3.5 billion people worldwide used a smartphone in 2020. In 2021, this number is estimated to increase to 3.8 billion.
Users increasingly prefer to get information and book on their smartphone or tablet. It's no different when it comes to holidays. Last year, 49% of German-speaking travellers obtained information BEFORE their trip on their mobile device; 23% made a booking on their mobile device.
This is why Google recently decided that the mobile version of a website counts as a ranking factor. To put it bluntly: if you don't have a mobile-optimised (responsive) page by March 2021, the website of your accommodation won't exist for Google anymore and, hence, will not be eligible for its ranking.
For your accommodation, this translates into: a responsive website is a prerequisite if you want to appear in Google's search results and reach new guests worldwide.
These points are crucial for a flawless user experience on your hotel website
the information should be immediately visible without having to zoom in, zoom out or scroll – regardless of the device used
the font should be easy to read
crisp, high-quality content instead of endless waffle
consistent and coherent colour scheme (preferably in your brand colours)
clear navigation
as little pop-ups as possible
available click-to-call function
integration of Google My Business and Google Maps to be found more easily
recognition of returning guests: forms are filled in automatically
simple and mobile-friendly booking process
Google will reward you for the user-friendliness and clarity after acknowledging these points.
47% of travel searches were conducted on mobile phones in Europe in 2020 and the importance of mobile internet has been increasing for years – with no end to it. So it's super important for your website to be optimised for mobile devices.
3) SEO – Search Engine Optimisation
For many, search engine optimisation (SEO) is a closed book – and very understandably so. It's too complicated, too intangible and also subject to constant change. Believe me, I can tell you a thing or two about it.
But following the four basic principles of SEO is well-worth the effort in order to positively influence your ranking in the long term. "But why should I go to all that trouble?" you may ask. Because, in order to get more traffic on your website, your goal from an SEO perspective should be to rank on page one of the search results.
1. Identify and use the right keywords
When looking for the right keywords, you should put yourself in the travellers' shoes. What would they look for when planning to go on holiday in your region? What terms do they type into the Google search box? This requires a bit of brainstorming, but it's definitely worth it. You don't have to find ONE keyword, just jott down 10 different keywords for a start.
Once you've created your list, it's time to add the keywords to your website content. Not all keywords on one page, but distributed in accordance with the page topic. You should take the following elements into account:
Page title
Main heading and subheadings
Continuous text
Used images:

Filename
ALT attribute
Image title
Featuring your keywords in the abovementioned elements will help Google to recognise your hotel website.
2. Create a "Google My Business" account for your accommodation
A Google My Business listing is another positive ranking factor for your hotel website. It makes your hotel website instantly accessible to travellers searching on Google and bundles all important contact information, Google Maps location and images of your accommodation that you can upload here. The listing combines Google search and Google Maps. The great thing is that the traveller has all information relevant to him in an instant. In addition, guests can leave a rating for your accommodation here. And the best bit: it's completely free and has a positive effect on the ranking of your hotel website.
Having your own Google My Business listing is a simple, free yet effective way to make it easier for travellers to find you. However, make sure to keep your listing up to date. News, such as offers or events, and new blog articles pictures of your accommodation should also be shared via your listing.
3. Use Google Hotel Ads
Google Hotel Ads are also effective and the most popular measure to get noticed on Google. By clicking on the ad, the traveller can immediately begin the booking process. However, as with your website, ads require a sound knowledge about the keywords used by travellers as it will only appear when travellers are searching for something that meets the specifics of your property.
Creating and placing the ad is free of charge. However, a mindful selection of keywords is pivotal for its success. Only when the traveller clicks on the ad and comes to your website do you have to pay for the ad. The price (the Cost per Click – CPC) depends on the keyword, the position and the quality.
Ads are always listed at the top of the search results. This makes it easier for travellers to find your property. They contain all the important information a searcher needs to make a booking directly on your site.
4. Create high-quality, inspiring content
Travellers love high-quality, inspiring content that invites them to stay. That's why Google loves them, too. Avoid long boring blah di blahs all about you. Focus on understanding the traveller and addressing their needs in your copy. Are they looking for relaxation without children's noise in an adult-only hotel? Or is it the family where the parents want to spend time together while the children are having a good time at the children's entertainment? Reflect these needs you identified in your images and texts.
SEO is a long-term process that needs to be checked and readjusted time and time again. This applies to keywords as well as to updating your content.
4) Hotel blog
A blog is THE free way to increase your visibility in search results. Here you can take topics that travellers are looking for before their holiday in your region and turn them into a blog article on your website. This way, your hotel website becomes a source of inspiration for things to do in your region. Remember to always provide high-quality content for your potential guests. If you're able to answer their search intentions in your blog article, and they happily click through further articles on your website, Google will also reward this with a better ranking.
Possible topics for your hotel blog
Your region
Possible attractions, activities and trips
Your staff
Location-specific events
Recipes
News
Saisonal topics
I bet you're just bubbling over with ideas.
As I said: you can attract potential guests to your website with high-quality content. Wouldn't it be great, if you had a way to keep reminding these potential guests of your property? I'm sure you've already guessed: there is a solution! A blog article is also the perfect opportunity to offer a free downloadable freebie (e.g. a guide to places of interest in your region) that's in line with the topic.
Let me tell you how to make these blog articles and freebies public and increase your tribe of (potential) guests that book directly.
5) Social Media
Social media is playing an increasingly important role in our lives. Scrolling through one's own feed on Instagram or Facebook has long since become an integral part of our everyday life. People want to communicate and satisfy their needs via social media. It is about conveying personality, authenticity and values. So it is an excellent platform to attract the attention of travellers.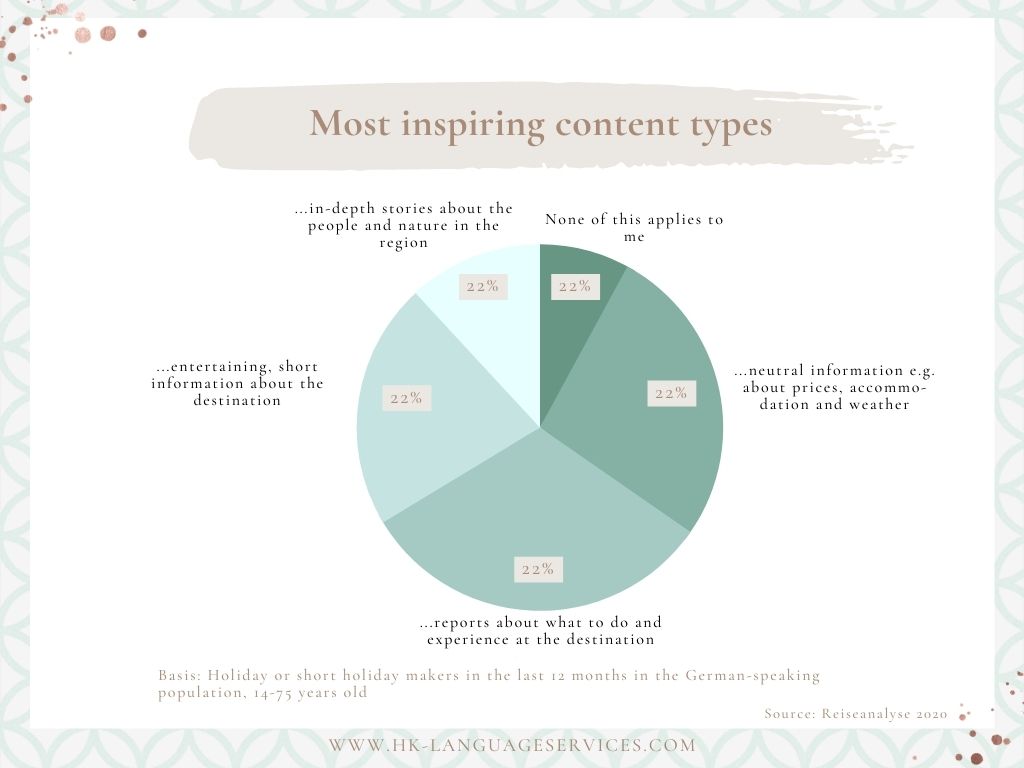 Especially for travel-related content, social media is perfect for building and maintaining relationships because it nourishes your guests' imagination. Plus, it's never been easier to engage with potential and existing guests.
Here too, your offer on social media should address travellers' needs. They become familiar with your accommodation with all its amenities and you as a host and your team. It's also great for sharing special offers. On the other hand, existing guests can share their holiday (experience) at your property with their friends and followers – kindling the interest of new potential guests…
How important is social media for travellers
52% of social media users said that holiday photos of their friends inspire them to new holiday ideas
76% share their holiday photos on social media
During holiday research, 55% like pages related to their planned trip.
Let's get back to your blog articles. If you are now wondering what on earth you should post on Instagram and the like, I have you covered. In addition to the topics already mentioned above, Social Media is the perfect way to prepare your blog articles like little tidbits in several posts and to "tease" the readers. If they like the little treat, they will help themselves to more from the buffet: your website.
6) Email Marketing
Are you one of those hoteliers who only sends emails to guests to confirm a booking? But there's an awful lot more that a newsletter can do. It actually has great potential to increase your direct bookings: with a newsletter you can stick in your subscribers' minds. Subscribers to your newsletter are usually people who have already stayed with you.
BUT, and here we've come full circle: remember your blog article and your freebie? The reader can only download the above-mentioned freebie from your blog article after entering his or her email address. It's a win-win situation, so to speak. The reader is happy about the freebie and you are happy about another newsletter subscriber. And in this way, you reach not only loyal guests but also continuously establish a growing tribe of potential guests with your newsletter.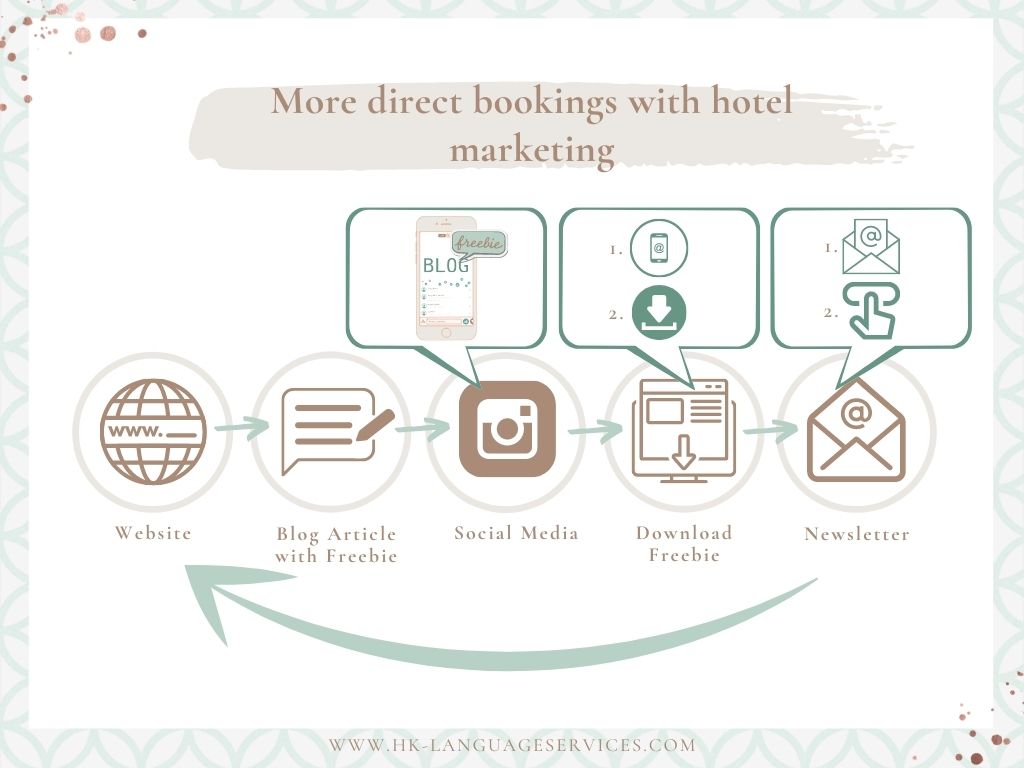 A newsletter in your hotel marketing: suitable topics
It seems reasonable to use a newsletter only as a means of announcing special deals. But quite frankly: who wants his inbox to be constantly flooded with super deals? Let's face it: your newsletter will most likely be deleted or you'll sell your room at a low price. So constantly offering deals is also problematic from a revenue point of view.
A useful newsletter aims at inspiring, arousing desires and binding both existing and potential guests to you. This could be news about new blog articles, new freebies, news about your property or your area. Seasonal topics and a look behind the scenes are also suitable for a newsletter.
These 3 questions structure your hotel marketing
Now that you know the basic possibilities of hotel marketing, you're probably all fired up to start right away. But, precisely because the possibilities are so diverse and comprehensive, it's very easy to get bogged down in details. Therefore, you should economize on your time (which is limited) and energy (which is also limited in the running business) and not just start haphazardly. After all, starting without a plan only wastes precious energy. You'll soon be frustrated because you don't see the desired results.
3 essential things to clarify before you start
What do you want to achieve? Only a well-defined goal can map out a plan for your activities.
Do you know your guests? Only then can your communication cater to and inspire your potential guests. So what does your pet guest look like?
What's your brand message? What matters to you, what's your WHY? With your brand message you set yourself apart from other properties in your region. Potential guests can see if they identify with you. Your brand message helps you to choose the right words and emotions that authentically convey your values and the essence of your brand to your potential customers. In the long run, you create awareness for your brand.
Oh, by the way: don't wince at the word "brand message" because you can only come up with the big chains in this context. It's perfectly fine for small hotels and individual properties to have their own personal brand.
3 mistakes that will make you quit
I hope this guide has given you many hotel marketing ideas for your accommodation. Now it's time to get down to business. However, I recommend that you really address the above-mentioned core questions first.
This is how it'll all work out:
Don't overexert yourself. We tend to want to do everything at once. Let go of perfectionism. Engage with the subject, develop a strategy and take it one step at a time. "Done is better than perfect."
Don't do everything in one chunk. Marketing requires a lot of patience. Especially when it comes to visibility. It's good to know that every little bit helps. And above all:" Rome wasn't built in a day either."
Don't start without a strategy. No strategy, no goal. No goal, no focus, but all the more wasted coverage. Your valuable energy and costs go pop. (I can actually hear it popping from here!) That would be such a shame, wouldn't it?
Therefore, I advise you to get your website up and running. Bring it up to date in terms of user-friendliness and SEO. Make sure to include a booking possibility. Because if your website can't keep up with your marketing, all your other marketing activities will come to nothing.
Keep at it, stay consistent, and your visibility will increase considerably.